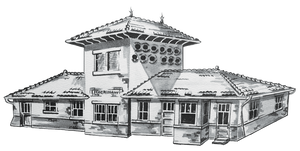 Visit the historic Mackinaw Depot
Within this historic train station in the small town of Mackinaw, Illinois, you step into a quaint shop called Garden Gate, featuring home decor and gifts. Explore a little bit further and you will find the Tea Room at the Depot, serving lunch Tuesday-Saturday 11am to 2pm. Don't forget to stop in to our boutique, BethAnne, which is located across right across the road.
For more information on our shops and to set up a reservation for the Tea Room, please check out our "Visit the Mackinaw Depot" menu tab above.