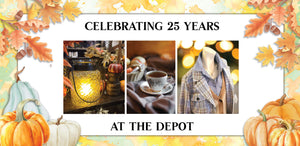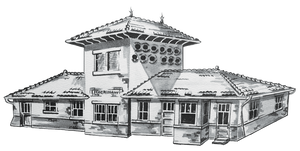 Visit the historic Mackinaw Depot
Within this historic train station in the small town of Mackinaw, Illinois, you step into a quaint shop called Garden Gate, featuring home decor and gifts. Explore a little bit further and you will find the Tea Room at the Depot, serving lunch Tuesday-Saturday 11am to 2pm. Don't forget to stop in to our boutique, BethAnne, which is located across right across the road.
For more information on our shops and to set up a reservation for the Tea Room, please check out our "Visit the Mackinaw Depot" menu tab above.
What our Customers are saying...

Frequently Asked Questions
We HIGHLY recommend reservations for the Tea Room. Reservations are not required, but we have many days that book up completely. We do not set aside specific tables for walk-ins.
To request a reservation, please give us a call at 309.359.4832 to speak to the host. You can also leave a request online under the "Visit" section of the menu. Reservations are not finalized until you have spoken with the host.
If you can no longer make it to your reservation, or if your group number changes, please let us know as soon as possible.
The Mackinaw Depot is located in Mackinaw, Illinois, at 301 N. Main St. The Tea Room at the Depot and Garden Gate are both located here, inside of our historic building.
You can find our boutique, BethAnne, right across the street at 206 N. Main St. in a restored cottage.
YES! Many people know us for our magical Christmas displays, but we are open all year and Garden Gate decorates for every season!
Our Christmas season at The Depot normally starts in October, hopefully giving everyone enough time to join in on the celebrations with us!
YES! Reservations for the Tea Room are not required to come shopping at Garden Gate or BethAnne.
Yes! There are no steps to get into the Mackinaw Depot and there is a ramp to get into BethAnne across the road.
There are some days that can be very busy. If you are making a reservation for the Tea Room, please make the host aware of any wheelchairs, walkers, strollers, etc. This helps them when assigning tables, and ensuring adequate space for mobility aids.
Garden Gate and BethAnne tend to have smaller crowds between the hours of 10am-11am, and after 3pm.
Yes, Mackinaw Depot gift cards are available for purchase online, and in store at each of our business. Gift cards can be used at Garden Gate, BethAnne, and in the Tea Room at the Depot*.
*Gift card balance cannot be applied towards server tip.
Yes, everyone can enjoy a lunch at the Tea Room! When making your reservation, please let us know if you will need space for a carrier or high chair, and how many children are in your party. Strollers are not recommended.
A children's menu is available and is recommended for children 10 and under, but they can also order off of our regular menu.